I, for one, love Asian style cooking... anything in an orange sauce or a szechwan style gets two thumbs up from me! I spotted this recipe for Szechwan Shrimp on another blog yesterday and knew I could adapt it for the chicken I was planning to have for this evenings meal. Needless to say, it was incredibly yummy. Lots of kick to it too... Myself and Mr. Tana-Licious' noses are still running!
Not only did I switch the shrimp to chicken, I also added a ton of blanched vegetables to give it a more rounded appeal for a meal... and served it over white rice. Enjoy!
Szechwan Chicken Stir-Fry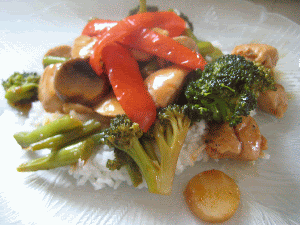 8 tablespoons water
4 tablespoons ketchup
2 tablespoon soy sauce
4 teaspoons cornstarch
2 teaspoon honey
1 teaspoon crushed red pepper
1/2 teaspoon grated ginger
1 tablespoon vegetable oil
1/4 cup sliced green onions
4 cloves garlic, minced
Mixed vegetables, blanched (I used broccoli, mushrooms, water chestnuts, green beans, and red bell peppers)
1 lb of chicken tenders, cubed
White rice (follow directions on box for serving size & cooking times)
In a bowl, stir together water, ketchup, soy sauce, cornstarch, honey, crushed red pepper, and ground ginger. Set aside.
Heat oil in a large skillet over medium-high heat.
Stir in the garlic; cook 30 seconds.
Brown the chicken and stir in half the sauce.
Once the sauce has thickened, add in the vegetables as well as the remainder of the sauce.
Cook and stir until sauce is bubbly and thickened and vegetables are heated throughout.
Serve over white rice.