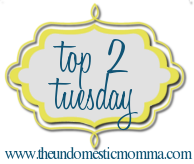 This weeks Top 2 Tuesday is
Celeb Hairstyles
... which is perfect because I have an appointment with Sue, my stylist extraordinaire, next Wednesday. I'm feeling like I need a bit of a pick me up to get me out of the drab winter hair rut so I'm excited to mix it up a little bit! My hair is a medium length bob that is ever so slightly inverted... and I love that. So I'm going to focus on my current favorite bobs that feature fabulous color...
# 1 - I love this cut on Mariska Hagerty and the color here is delicious!
# 2 - Someday, when I get super daring, I'll go this short, a la Mandy Moore. I also love this rich, warm color too!
Join in on Taylor's Top Two Tuesday and link up over on her blog!