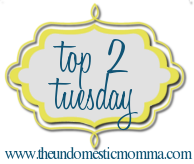 This week's installment of Top 2 Tuesday involves the top 2 most played songs in your iTunes library. I'd like to think my musical taste is varied and that I appreciate different artists for different reasons. My top 2 this week are certainly reflective of the music I've been loving as of late.
# 1: Adele "Someone Like You"
I could honestly listen to this girl sing all. day. long.
# 2: Katy Perry "Hummingbird Heartbeat"
Confession: I have a girl crush on Katy Perry. There. I said it out loud ;)
What are your Top 2?? Head over to the
Undomestic Momma
and link up!