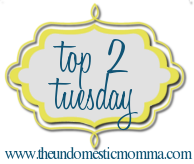 This week's edition of Top 2 Tuesday revolves around beverages... and for those of you who say "I only drink water" - you're not fooling anyone ;)
# 1:
Cherry Coke
Like most soda's, it is horribly bad for you but the taste, oh my word, I adore it's sickeningly sweet taste. I prefer my Cherry Coke from a fountain (it's fizzier!) but won't say no to a bottle or can!
# 2:
Sangria
There's no drink I love more on a hot summer day than sangria with lots of boozed up fruit in it! I'm a huge fan of wine so what's better than wine with tons more sweetness and chunks of fruit?! My friend Katy "loaned" me her incredible White Peach Sangria recipe and I make it every chance I can.
What liquid libations (boozey or not!) are your favorites? Head over to
The Undomestic Momma
and link up!